Due to COVID-19, we are experiencing a shortage of some items. The items on our website are NOT a true representation of the items in the store, and we will be communicating that information the best we can.
Raw Revolution Live Food Bar, Organic, Coconut Delight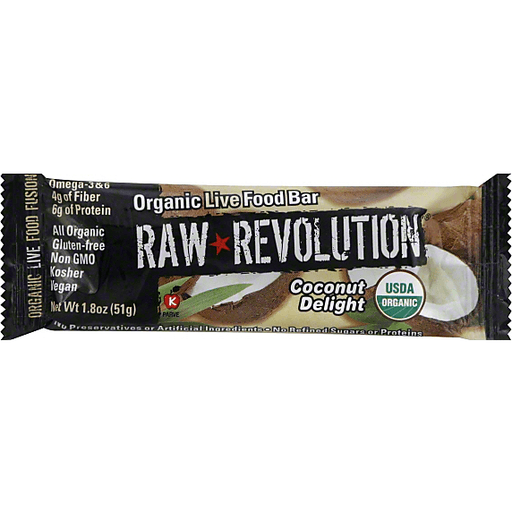 USDA organic. Omega-3 & 6. 4 g of fiber. 6 g of protein. All organic. Gluten-free. Non GMO. Kosher. Vegan. Organic live food fusion. No preservatives or artificial ingredients. No refined sugars or proteins. All organic. Vegan. Kosher. Gluten-free. Dairy-free. As a registered nurse and natural foods chef, I've developed a passion for Raw Foods. Imagine an alternative to high-sugar processed snacks that tastes simply amazing, a fusion of live, raw and organic ingredients. Imagine a clean snack with a higher nutrient content that brings us closer to healing ourselves and the global ecology. - Alice Bendetto, Founder. www.rawrev.com. Kosher and organic certification by Natural Food Certifiers, Spring Valley, New York. Proudly made in the USA in our own gluten-free plant.