Due to COVID-19, we are experiencing a shortage of some items. The items on our website are NOT a true representation of the items in the store, and we will be communicating that information the best we can.
MI-DEL Milk Chocolate Covered Grahams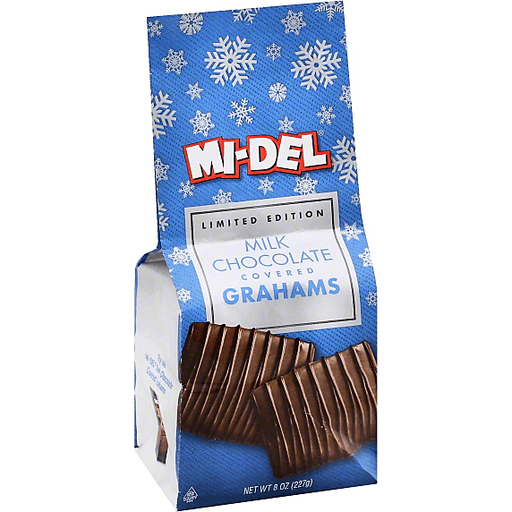 MI-DEL® Milk Chocolate Covered Grahams. Limited edition. Try our MI-DEL® Dark Chocolate Covered Grahams. The perfect blend of rich milk chocolate and crunchy whole wheat graham crackers: We start with wholesome whole wheat graham crackers and dip them in pure milk chocolate, then hand decorate them with velvety dark chocolate drizzles for a delicious creamy, crunchy treat. Experience this truly magical moment. Taste why they're Mi-Delicious™: For over 65 years we've used the same simple baking methods... no food additives, just simply delicious treats. MI-DEL Chocolate Covered Grahams will satisfy your chocolate craving. Try the wholesome goodness of MI-DEL Cookies, during the holidays and all year round: Whole wheat honey graham crackers, snaps made with organic and gluten-free ingredients, sandwich cookies, gingerbread men and candy cane cremes. panosbrands.com. midelcookies.com. ©2015 Panos Brands.