Due to COVID-19, we are experiencing a shortage of some items. The items on our website are NOT a true representation of the items in the store, and we will be communicating that information the best we can.
Gts Kombucha, Classic, Lemonade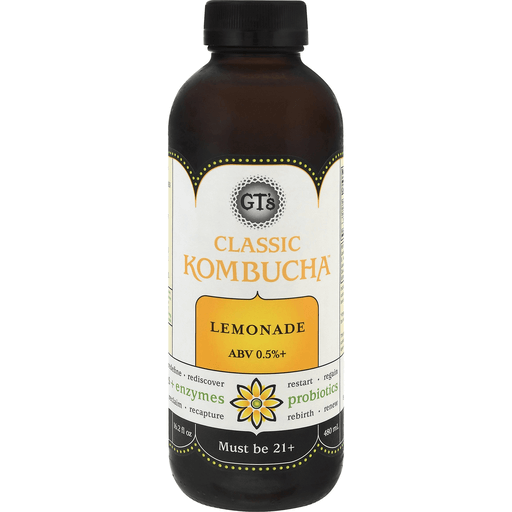 Must be 21+. Per Bottle at Time of Bottling: Lactobacillus Bacterium 4 billion organisms, S. Boulardii: 4 billion organisms, L(+) Lactic Acid: 100 mg, Acetic Acid: 75 mg, Glucuronic Acid: 1400 mg, Gluconic Acid: 650 mg, Polyphenols: 10 mg. USDA Organic. Certified Organic by Organic Certifiers, Inc. Gluten-free. Vegan. Non GMO Project verified. nongmoproject.org. Rebalance. Reawaken. Rethink. Rekindle. Redefine. Rediscover. Restart. Regain. Reimagine. Relive. Repurpose. Reinvent. Reclaim. Recapture. Rebirth. Renew. Living food for the living body. Honoring Tradition: Over 25 years ago, I learned the ancient art of crafting Kombucha and have used the same method and recipe ever since. Traditionally fermented for 30 days, my Classic Kombucha offers a bold signature bite with some naturally occurring alcohol - a byproduct of fermentation that helps protect raw Kombucha's desirable properties. Unpasteurized & unfiltered, each bottle offers organic acids, active enzymes, and billions of living probiotics. - GT Dave, Founder. What is Kombucha? Kombucha is a fermented tea crafted with a living culture (known as a Scoby) added to a base of sweetened tea. The Scoby consumes sugars and caffeine, transforming the tea into this effervescent probiotic drink known in ancient Asian cultures as The Tea of Immortality. Real, authentic Kombucha, like GT's is raw and living, offers a tangy taste, natural effervescence, and visible culture strands. Raw. Electrolytes + polyphenols + enzymes. Probiotics. GT's Classic Kombucha has an extended fermentation that provides a bold flavor and contains 1% alcohol by volume (no more than 3.2% by weight or 4% by volume). Naturally effervescent. gtslivingfoods.com. Contact Us: Toll-Free: 877.735.8423. ABV 0.5%+.