Due to COVID-19, we are experiencing a shortage of some items. The items on our website are NOT a true representation of the items in the store, and we will be communicating that information the best we can.
California Baby Bubble Bath, Aromatherapy, Calming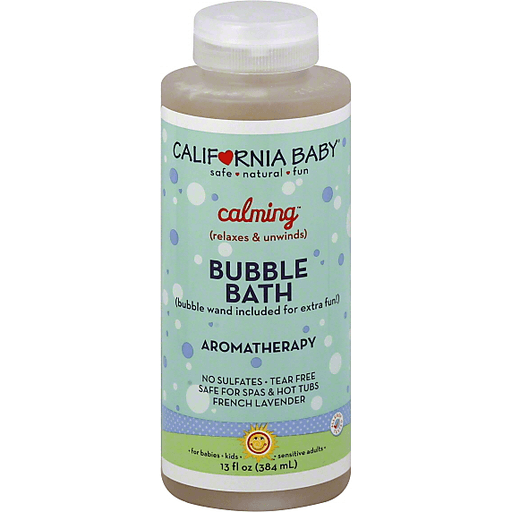 Safe. Natural. Fun. Relaxes & unwinds. Bubble wand included for extra fun! No sulfates. Tear free. Safe for spas & hot tubs. French lavender. For babies, kids, sensitive adults. Allergy tested. Developed by a mother, California Baby has your best interest at heart. No gluten, soy, oat, dairy or nuts except for coconut (seed of a drupaceous fruit), which is not typically restricted in the diets of people with tree nut allergies. Take baby from bath to bed and off to a sound sleep with our exclusive Calming blend that helps to avoid bedtime struggles. We use high quality aromatherapy essential oils that are gentle and effective. Instead of harsh bubbling agents that can dry, irritate and strip delicate mucous membranes, our bubble bath's non-invasive formula combines soapbark, yucca and glucosides that are derived from renewable vegan sources to nourish and protect delicate skin. Our bubbles will satisfy even the most demanding bubble connoisseur! A mommy-tip from Jessica, Developer of California Baby: Fill cap to blow bubbles & place bottle away from tub to avoid spills! Low: 2-3 capfuls, Medium: 3-4 capfuls, High: 4-5 capfuls, Extreme: 5-6 capfuls. Bubble power in capfuls! 100% natural base. Organic ingredients. Concentrated. Rapidly biodegradable. Vegan. No animal testing. Made in our FDA registered & organic certified facility. Natural & organic ingredients. Solar powered facility. HDPE 2 label & bottle. Label tree-free H2O-based inks. This bottle has many fun lives! To find out more, scan or visit: www.californiababy.com/fun.html. www.californiababy.com. Made in USA.